If You Are Looking For A High-Quality Pruner That Can Handle Any Pruning Task With Ease, Look No Further Than The Zenport QV8 Pruner.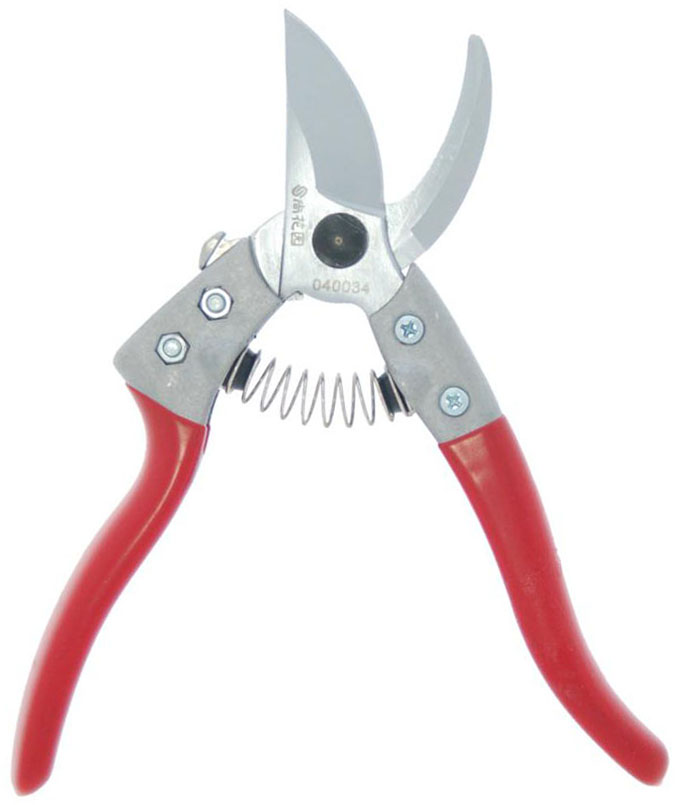 This Pruner Is Designed For Intensive Commercial Use, But It Is Also Ideal For Home Gardeners Who Want To Enjoy The Benefits Of Professional-Grade Tools!
Simply Press The Handles Together To Open Automatically, And Then Secure Shut With Your Thumb When Finished Cutting!
The Zenport QV8 pruner features a chrome-plated carbon steel blade that can cut through branches up to 1 inch in diameter with minimal effort. The blade is also durable and resistant to rust and corrosion. The pruner has an ergonomic squeeze-to-open mechanism that allows you to open and close the blades with one hand, saving you time and energy. The die-caste aluminum handles are lightweight yet strong, and they fit comfortably in your hand.
The Zenport QV8 pruner is not only a great tool for pruning trees, shrubs, vines, flowers, and herbs, but it also has many other uses in landscape, gardening, and farming. You can use it to harvest fruits and vegetables, trim hedges and grasses, cut wires and ropes, and more. The pruner is versatile and reliable for any cutting job.
To keep your Zenport QV8 pruner in optimal condition, you should clean it after each use with a damp cloth or a soft brush. You should also oil the blade regularly with a light machine oil or WD-40 to prevent rusting and sticking. You should sharpen the blade periodically with a whetstone or a file to maintain its cutting edge. You should also store your pruner in a dry place away from moisture and dust.
One of the best features of the Zenport QV8 pruner is that it has replaceable parts that are easy to find and install. You can order spare blades, springs, screws, nuts, bolts, washers, locking mechanisms, handles, bumpers, shock absorbers from our website. This way you can extend the life of your pruner and reduce the cost of ownership.
But Don't Just Take Our Word For It. Here Are Some Testimonials From Satisfied Customers Who Have Used The Zenport QV8 Pruner:
"I love this pruner! It cuts through everything like butter. It's very comfortable to use and easy to operate. I use it for pruning my roses, fruit trees, and grapevines, and it never disappoints me." – Mary S., California
"This is the best pruner I have ever owned. It's sturdy, sharp, and smooth. It makes pruning a breeze. I highly recommend it to anyone who needs a reliable tool for their garden." – John D., Oregon
"I bought this pruner for my husband who is a landscaper. He says it's his favorite tool ever. He uses it every day for various tasks, and he says it never fails him. He likes how light and ergonomic it is, and how easy it is to replace the parts when needed." – Lisa R., Texas
So What Are You Waiting For? Order Your Zenport QV8 Pruner Today And Experience The Difference Of Quality And Performance! You Won't Regret It!
Specifications
Length: 200 mm Weight: 220 g Cut: 20 mm
Designed for intensive commercial horticulture use
Ideal for landscapers or arborist, arboriculturist
Ergonomically shaped, aluminum handles
Handle design offers superior strength and ensures hands are not over stressed
Light and well balanced in the hand
Hard chrome plated blade
Blade is rust resistant and easy to wipe clean
Unique 'squeeze-to-open' handle locking mechanism, simply press the handles together
Secure shut with your thumb when finished cutting
Urethane cushioning on each handle
Overall tool length: 7.87-inches (200 mm)
Overall tool weight: 7.8oz (220 g)
Maximum cutting capacity: .75-inches (20 mm)
Zenport QV8 Pruner Japanese Squeeze Open Pro, Chrome Plated Blade, 1-Inch Cut, 8-Inch Long
New Products